Composed of:
A:Hairband+Neck Piece+Top+Skirt+Sleeves+Bow
B:Hairband+Neck Piece+Dress+Sleeves+Bow
Delivery Time:3-8 weeks process time + 5-8 biz days by premium shipment
Material:Cotton+Satin+Lace
Custom Size only!
Measure Guide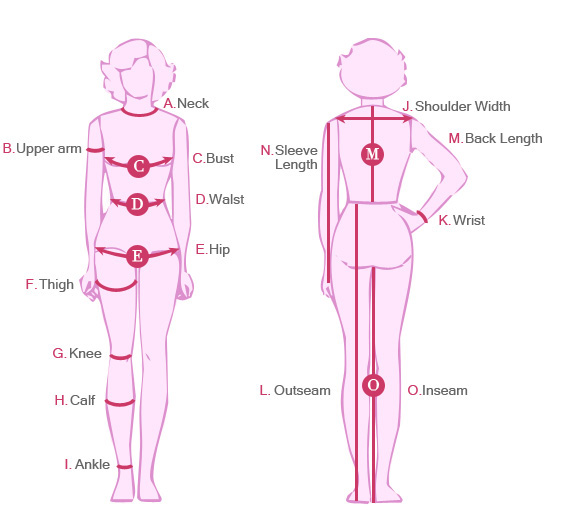 Please have someone else measure for you. Measure by yourself won't be accurate.
Get someone who knows how to do this to measure. It's important. We need accurate body size. If you give us clothies size directly(with extra space already added, please note us when order.)
C

Bust

Measure around bust at fullest point.

It's not your bra size.

Wear a bra when doing this measurement.

D

Waist

Natural waistline. measure around smallest waistline.

Note us if need to wear the pants or skirt at lower waist.

E

Hip

Measure around the biggest line around hip.

M

Back length

Front shoulder to waist length.

A

Left

All items on left model.A.B.C.D.E.F.G.H.I are circumference size.